Digital PET/CT
In nuclear medicine, SJMC invested in and commissioned for use a new generation of the world's first digital PET/CT platform, Discovery MI Gen2, for optimal care from detecting disease to treatment planning and assessment. Built with breakthrough digital PET technology, the latest in diagnostic CT and advanced quantitative software, Discovery™ MI Gen2 enables fast scanning with low radiation dose, offering exceptional image quality and PET quantitation accuracy.
The promise of digital PET is precision across the entire imaging experience. With Discovery MI Gen 2, we are taking the promise of digital PET even further, with a premium digital PET/CT capable of enabling the next generation of clinical applications, so we can continue pushing the boundaries of our clinical work.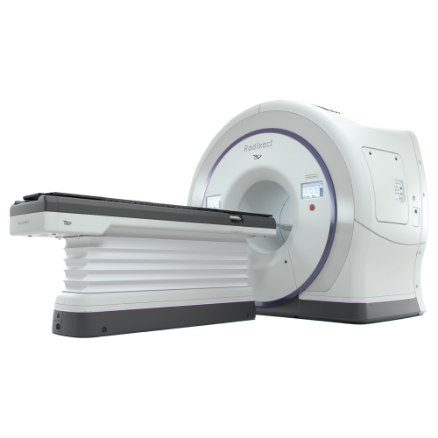 Radixact X9 Tomotherapy with Synchrony
The next generation of tomotherapy is currently in use at SJMC.
The Radixact X9 with Synchrony, a significantly advanced delivery system that combines the precision of intensity-modulated radiation therapy and image-guided scan to destroy and reduce cancer tumour, was first introduced in Malaysia by SJMC. This game-changing radiation therapy system for cancer patients features Synchrony® real-time delivery adaptation for targets that move during delivery. The synchrony technology is able to track the tumour in the lung in real-time, which moves with the patient's natural breathing and automatically adjusts the radiation beam precisely targeting the moving tumour. This effectively and efficiently minimizes the radiation exposure to the surrounding normal lung while delivering the highest tolerated radiation dose to the cancer cells.
Among the many key benefits include:
Real-time imaging for improved monitoring of the tumour
Ultra high-precision radiation shaped to the tumour while sparing healthy tissues
Unprecedented flexibility for personalised treatment
Enables administration of highly precise radiation to tumours that move with natural breathing, i.e. primary or metastatic lung cancer, liver cancer, prostate cancer and pancreatic cancer.
The Radixact System, with its new generation of Tomotherapy with Synchrony technology by far yields superior clinical results, especially in head and neck, breast, gastrointestinal & prostate cancers.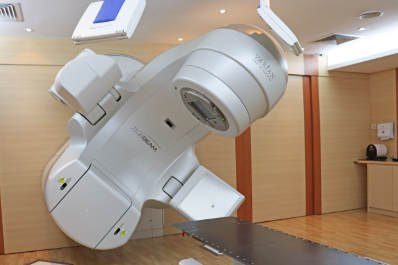 Intensity Modulated Radiation Therapy (IMRT)
Advances in radiation therapy are accelerating, creating new options for treatment and new sources of optimism in the fight against cancer. However, translating innovations into better outcomes for patients requires more than piecemeal adoption of new solutions. It requires an integration of capabilities on multiple levels. The high-precision Varian TrueBeam® radiotherapy system is uniquely capable of integrating hardware, software, treatment regimens, safety features, third-party solutions, new innovations, and support.
IMRT is also known as RapidArc with Truebeam Radiotherapy System. Volumetric Arc Therapy (VMAT) or RapidArc® Radiotherapy Technology is an advanced form of IMRT that delivers a precisely sculpted 3-D dose distribution with a 360-degree rotation of the gantry in a single or multi-arc treatment. It allows people with cancer to receive higher, more effective doses of radiation while limiting damage to the healthy tissues and organs around it. This increases your chance for a cure and lessens the likelihood of side effects.
IMRT RapidArc is used at SJMC most often to treat prostate cancer, head and neck cancers, lung cancer, brain cancer, gastrointestinal cancers, and breast cancer, in part because these tumours tend to be located close to critical organs and tissues in the body. It may also be used to treat lymphoma, sarcoma, gynaecologic cancers, and select paediatric cancers.
The depth and breadth of technology integration in the TrueBeam platform is designed to enable treatment of a wider array of cancer cases using a diverse range of radiation therapies. Clinical cases in head and neck cancers, lung, breast, prostate, liver, and more are addressed by TrueBeam using SRS, stereotactic body radiation therapy (SBRT), HyperArc, volumetric modulated radiation therapy (VMAT), intensity-modulated radiation therapy (IMRT), image-guided radiotherapy (IGRT) and RapidArc radiotherapy.
Intraoperative Radiation Therapy (IORT)
IORT is an innovative radiation treatment in which it is administered at the time of surgery following removal of the tumour. IORT is delivered directly to the tissue surrounding the cancer as a single dose at the time of surgery.
Single Fraction Focus Radiotherapy
Effective high dose delivered in a single session during surgery for early breast cancers.
A single session radiotherapy treatment is very convenient for patients as it saves time and reduces the need for several weeks of follow-up radiotherapy treatments. Targeted effectiveness without delay
Effective high-dose cancer treatment option, delivered directly during surgery and precisely where it is needed.
Radiotherapy is given directly to the tumour bed during surgery.
This reduces unnecessary radiation exposure to surrounding healthy breast tissue.
It is effective because a higher concentration of radiation dose can be applied to the tumour bed where there is a risk of local tumour recurrence.
MultiSource High-Dose-Rate (HDR) Brachytherapy
In brachytherapy, a radioactive substance is encapsulated and placed directly or near the tumour. High-dose-rate (HDR) brachytherapy is a technique using a source of specific high radioactivity such as Co-60 to deliver a therapeutic dose of radiation, using temporarily placed needles, catheters or other applicators in the respective procedures. Since its introduction, Co-60 has achieved tremendous success and has continued to evolve to support modern HDR brachytherapy needs. HDR brachytherapy was proven to be highly successful treatment for cancers of cervix, endometrial, breast, prostate, skin, oesophageal, bronchus, head and neck. Soft tissue sarcomas, ocular melanomas and several other types of cancer could also be treated with success.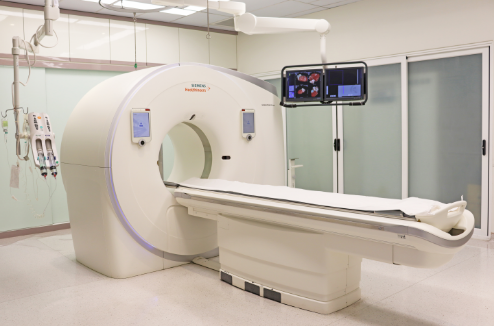 Dual Source CT Scanner
The SOMATOM Drive Dual Source CT Scanner, the 1st in Malaysia when it was launched by SJMC, set a new standard in low radiation dose with fast scanning for a better patient experience, enhanced diagnostic accuracy and dynamic 3D and 4D imaging. With reduced radiation and without the need to give patients a drug to calm them down, safety is improved. The speed of the SOMATOM Drive CT system supports paediatric CT examinations with no sedation. The system's Stellar Infinity detector and integrated iterative reconstruction capabilities, coupled with the use of very low kV levels, support an environment where the lowest doses are used for paediatric patients. The system's new tin filter and low-voltage capabilities help to reduce patient X-ray dose and required dose of contrast media. E.g. in CT lung cancer screening, the radiation dose is at as low as 15 chest x-rays while the standard average is equivalent to 100 chest x-rays.
While standard imaging technology requires patients to hold their breath and stay put once they're being analysed, the SOMATOM Drive Dual Source CT Scanner can capture accurate images even if patients move or breathe heavily due to stress or anxiety, making the whole diagnostic process easier and quicker. Elderly patients who present to the hospital with undiagnosed chest pain and breathing difficulties are among the patient populations who can benefit from the ability to breathe freely during scanning with the SOMATOM Drive. And thanks to the system's ultra-fast scanning speed, the patient's heart and lung movement does not compromise diagnostic imaging quality. Further, since a cardiac scan can be performed in one heartbeat using the SOMATOM Drive, beta-blockers may no longer be required to slow the heartbeat of some patients.
These patient benefits also may lead to smoother workflows in the radiology department. If the clinical images from the first CT scan are of diagnostic quality, multiple scans are not necessary. For most patients with reduced kidney function, a lower dose of contrast media may reduce the need for related preparation and follow-up. And since the scanner supports the potential to perform CT examinations with no sedation, anaesthetic support and additional intensive medical care may not be required.
The high-performance dual source CT scanner is designed to drive precision in diagnostic imaging across a wide range of clinical disciplines - paediatrics, cardiology, oncology, and emergency medicine.