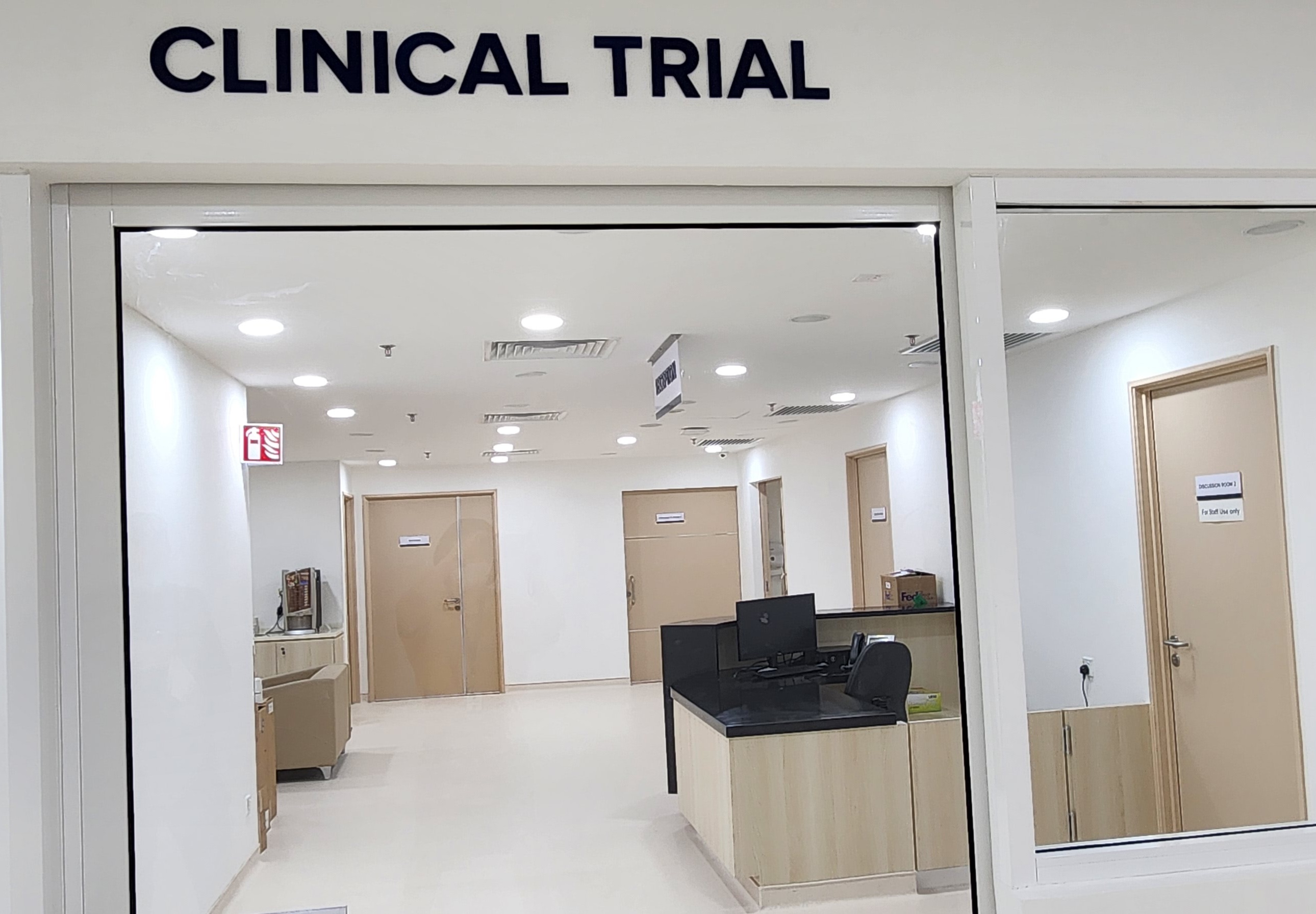 Our researchers conduct clinical trials to improve care for many types of cancer.
Clinical trials are research studies for the purpose of evaluating a medical, surgical or behavioural intervention in which patients may volunteer to take part. We embark on clinical trials to find better ways to prevent, diagnose and treat cancer.
Clinical trials are part of a longitudinal process, which include studies to assess the safety, efficacy and effectiveness of a new treatment or drug versus the standard treatment, or to test ways to find a disease early, sometimes before any symptoms appear. Your doctor may offer you a clinical trial as a treatment option.
List of Ongoing / Upcoming Clinical Trials
| Area of Specialty | Title of Study | Status |
| --- | --- | --- |
| Haematology | CABL001J12301: A phase III, multi-center, open-label, randomized study of oral asciminib versus Investigator selected TKI in patients with newly diagnosed Philadelphia Chromosome Positive Chronic Myelogenous Leukaemia in Chronic Phase | Ongoing (Stopped recruiting) |
| Haematology | MOR208C310: A phase 3, multicenter, randomized, double-blind, placebo-controlled trial comparing the efficacy and safety of Tafasitamab plus lenalidomide in addition to R-CHOP versus R-CHOP in previously untreated, high-intermediate and high-risk patients with newly-diagnosed diffuse large B-cell lymphoma (DLBCL)  | Ongoing (Stopped recruiting) |
| Oncology | 61186372NSC3002: A Phase 3, Open-Label, Randomized Study of Amivantamab and Lazertinib in Combination with Platinum-Based Chemotherapy Compared with Platinum-Based Chemotherapy in Patients with EGFR-Mutated Locally Advanced or Metastatic NonSmall Cell Lung Cancer After Osimertinib Failure MARIPOSA-2 | Closed |
| Haematology | 64007957MMY3006: A Phase 3 Randomized Study Comparing Teclistamab Monotherapy versus Pomalidomide, Bortezomib, Dexamethasone (PVd) or Carfilzomib, Dexamethasone (Kd) in Participants with Relapsed or Refractory Multiple Myeloma who have Received 1 to 3 Prior Lines of Therapy, Including an Anti-CD38 Monoclonal Antibody and Lenalidomide | Upcoming |
| Haematology | CVAY736Q12301: A phase 3 randomized, double-blind study of ianalumab (VAY736) versus placebo in addition to eltrombopag in patients with primary immune thrombocytopenia (ITP) who had an insufficient response or relapsed after first line steroid treatment (VAYHIT2) | Upcoming |